Headstone Inscriptions, Balleeghan, Raymoghy, Co Donegal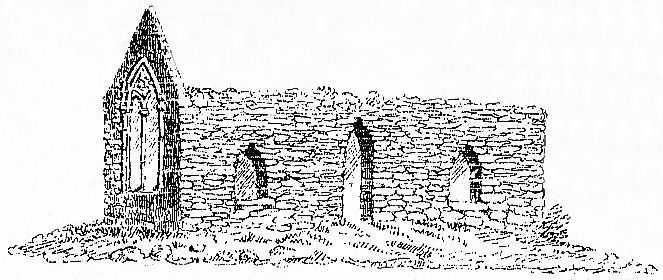 These inscriptions were compiled by Lindel and form part of the Donegal Genealogy Resources Website
You may link to this page but not copy it
If you have a connection to any of the families and would like to have your email address linked to them, please feel free to Contact Me

Notes:
(from the Ordnance Survey Memoirs Jan 1836)
The Abbey itself is supposed to have been founded previous to the tenth century, built by brothers called McDegeney.
The building was of greater extent than the walls, still remaining, but the northern portion has been removed and the stones used for some cottages under which a cellar with a well in it is still existing
and has been seen by an old inhabitant of the place.
This cellar is at present covered up but the occupying tenant of the farm, Mr Alexander, intends opening it
This Graveyard contains the site of an old Abbey, which was erected in the Gothis style, and stands on the shores of Lough Swilly.
The original survey of this graveyard was conducted by the Letterkenny Heritage Centre in 1991
Thanks go to the Donegal County Library, Letterkenny, for their help with these inscriptions
Inscriptions
In Memory of
Mary Carlin
Who Died On 29 Apr 1932
Her Grand Daughter May Carlin
Who Died 6 Feb 1941

To The Memory Of
The Colhoun Family
Magherabeg
1951

Here Lye The Body Of
Patrick Connaughan
Who Departed This Life
The 22nd Day of Jan 1816
Aged 16 Years

In Loving Memory Of
The Cuthbertson Family
Peace Perfect Peace

Sacred To The Memory of
Anthony Doherty
Who Died 6 Jan 1847
Also His Wife
Mary
Who Died 28 Jun 1847
Also Their Son
Anthony
Who Died 27 Apr 1847
RIP

4 October
Alexander Guthrie
Sarah Guthrie
Jan 5th........
..................
Alex Guthrie
Mary Guthrie
John Guthrie
April.......

In Loving Memory of
Daniel Halferty
Late of Galdonagh
Died 31 Jul 1930
His Wife Ellen
Died 8 Oct 1930

Here Lyeth The Remains of
Joloph Hamilton
of Bellegha
Who Departed This Life
April 1798
Aged 36

Here Lyeth The Body Of
Andrew Magill
Who Departed This Life
Apr 13 1780
Aged 83
Also The Body Of
John Magill
Son To The Fore Mentioned
Andrew
Who Departed This Life
Oct The 18th 1792
Aged 60 Years

In Loving Memory of
Denis McGeehan
Magherabeg
Died 4 Apr 1932
Also His Wife
Mary
Died 19 Jan 1951
RIP

In Loving Memory of
John McKinley
Died 9 Mar 1984
Aged 80 Years
His Mother
Susan Mary
Died 20 Dec 1922
Aged 46 Years

J.M.

Robert Park Jun
Who Departed On The 20th Day of Nov 1769
Aged 38 Years
Robert Park Son
Who Died On The 13th Day of Aug 1775
Aged 88 Years
Jane Park
Who Died On The 7th Day of Jul 1783
Aged 66 Years
And In Memory of
Nathan Park
Who Died On The 22nd Day of Jul 1809
Aged 85 Years
This Stone Is Deposited In Compliance With His Desire
By His Grateful Relative
Nathan Stewart at Castleshanaghan
On The 20th Day of Apr 1810
The Shall The Dust Return To The Earth As It Was
And The Spirit Shall Return Unto God Who Gave It

To Mark The Spot Where In
Are Deposited The Remains of
John Patterson
Late of Ballylawn
Who Died The 30th Day of Jul 1853
Aged 80 Years
Robert Patterson
Died 13th Feb 1871
Aged 88 Years

Underneath This Stone
Rests The Dust of the
Revd Robert Reed
First Minister of
Presbyterian Secession Church In Ray
For 38 Years He Discharged The Duties of the Ministry
With Zeal and Faithfulness
And After having Served His Generation
By The Will of God He Fell On Sleep
Apr 5th 1788
Aged 65 Years
The Remains of
Sarah Cunningham
His Wife, Rest Here Also
She Survived Her Husband 40 Years
Died 1828 Aged 91 Years
Erected to the Memory of His Venerated
Parents by Alexander Reed
Merchant, Washington, America

In Loving Memory of
John Russell of Ballylawn
Died 12 Dec 1907
Aged 83 Years
Also His Daughter
Margaret Galbraith
Died 23 Jan 1881
Aged 1 Year 7 Months
And His Son Thomas Galbraith
Died 22 Jul 1887
Aged 3 Years 3 Months
Also His Beloved Wife
Annie
Died 19 Aug 1924
Aged 77 Years
Also His Grand Daughter
Vera Georgina
Died 19 Mar 1932
Aged 17 Years
And Her Mother
Ellen Mary Russell
Died 16 Aug 1944
Aged 53 Years
Also Her Son
Jack
Died 2 Jun 1976
Aged 60 Years

In Memory of
Walter Stewart
Listillion
Who Died 5 Dec 1897
Aged 80 Years
John Stewart
Who Died 26 Sep 1917
Aged 47 Years
Asleep In Christ

In Memory Of
Mary Wallace
Who Died 2nd Sep 1871
Aged 80 Years
Also Her Brother
Walter Wallace
Who Died 28th Mar 1872
Aged 72 Years
And His Sister
Anne
Died Dec 16th 1872
Aged 68 Years


© Donegal Genealogy Resources