Clonca Churchyard, Parish of Cloncha, Headstone Inscriptions

This page was compiled by Lindel & Meg and forms part of the Donegal Genealogy Resources Website

You may link to this page but not copy it

Notes:

The ruins of a small seventeen-century church, about 48 feet by 21 feet, known as the 'Church of Cloncha' that occupies an older foundation, lie eastward of Bothchonais (Carrowmore), on the road to Culdaff. Carrowmore, now better known as Baskil (basilica), was the probable site of the Monastery of Bothchonais mentioned by John Colgan. In Bishop Downham's Visitation Book, 1622, we find 'The church of Cloncagh is fallen down, and altogether decayed.' In that year 'Edward Boucker, clerk, an honest man, but noe licensed preacher,' was Incumbent, who was considered as 'suffficient for a parishe consisting wholly of Irishe.' This old church was roofed and used for Devine Service until the year 1827.

Outside, west of the graveyard of this church, are the remains of a High Commemoration Cross, known as the Cross of St Buadon.

The portion of the shaft now erect in its original site measures about 10 ft. high by 16 in. by 8 and a half in. It is divided into panels, and carved with figures representing Scriptural subjects, after the style of the Monasterboice crosses. In the same field is what is stated to be the remaining portion of the cross, consisting of the upper limb, or head of the cross, which gives a further height of about 5 ft. 6 in., or a total height of about 15 ft. 6 in. The appearance of this cross, if restored would resemble in many respects the model of the restored cross after Henry O'Neill, now in the Museum, Kildare Street. The head of the cross extends over the body by a projection 20 in. wide by 13 and a half in. high, and 5 and a half in. thick, so that the sloping sides, beginning at 16 in. wide, taper at the top to 13 and a half in., while the thickness of the stem of 8 and a half in. wide also diminish at the top to 5 and a half in. The top of the cross extends 2 ft. 9 in. from the centre of the arms. A central small circle, 10 in. in diameter, divides the arms that project 20 in. on each side of the centre, giving an extreme width of 40 in. across the body. The shoulders of the cross are sunken spaces, but not perforated, as in most Irish crosses. The circular rim, or nimbus, is formed by intersecting circles, having a raised boss 7 and a half in. in diameter in each. A memorial cross of this magnificence is rarely found, and the Author regrets that the time at his disposal when visiting the locality of the site would not permit a more careful examination.

(From Inis-Owen and Tirconnell, Being Some Account of Antiquities and Writers of the County of Donegal, by William James Doherty 1895)

Photographs by Lindel, 2010

Inscriptions

[Emblematic device]

Here lies the body of

William Callwell

Who died in the 40 yeare of his age

Ma 29 1706

And also his wife

Margrat Lorn

Who died in the 48 yeare of her age

Aprile 15 1718

Erected by John Calwell and ?

His offspring linialy anno dom 1718

In centre of chancel, to right of 'Cloncha Stone' : -

IHS

This was erected by

Dennis Canny

In Memory of his Brother

John Canny

Who departed this life Oct 20 1797

Aged 86 years

Underneath are deposited the remains of

William Cramsey

Who departed this life Nov 21 1809 aged 87

Here lyes the body of

Charles Davenport Esquire

Who dyed in the 17th year of his age

On Monday 19 Jul 1697

As also the body of Margaret his wife

Eldest daughter of Major George Cary of Redcastle

With 5 children

Note:

The Davenports were formerly landed gentry in this parish, having a lease of Glengad and Carthage from

Lord Donegal, which, in 1775, passed into the hands of the Young family

IHS

[Bell, skull and crossbones]

This stone only sheweth that underneath lie the mortal remains of

Michael Doherty, late of Dunross

Who departed this life 20 Sep 1812 aged 44 years
Outside the church, and parallel to the stone of Magnus MacOrriston (below), is a stone :-
Erected to the Memory of the learned and reverend
Dr William Elwood
Who was for 66 years Rector of Cloncha
And who died in the the year 1786 aged 91 years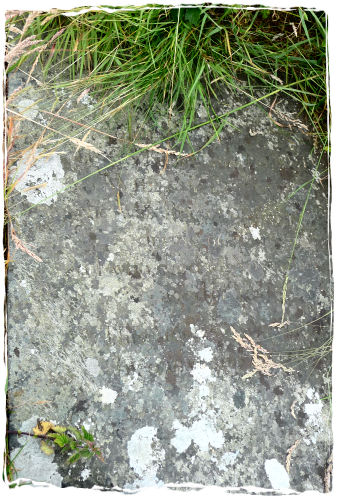 IHS
[Bell, skull and crossbones]
This stone was erected by
James Hegerty
In Memory of his Father
Patrick Hegerty
Who departed this life Jan 20 1799 aged 70 years
Also the body of his son
John Hegerty
Who departed this life Jun 13 1798 aged 86 years

IHS
[An Angel]
Here lyeth the body of
William McAllen
Who departed this Life May 15 1788 aged 66
Also his son
James
Died Apr 5 1788 aged 19
Erected by William MacAllen, his son
For his own posterity, 1784

[Perpendicular tombstone in Churchyard]
This stone was erected by
Robert McCanless
In the year 1819
For his wife and family

IHS
Here Lyeth the Body of the
Reverend James McColgan
Who departed this life 27 Aug 1812 aged 28 years

This Monument was Erected by
Cathal MacLaghlin, Shane MacLaghlin and Mark MacLaghlin for their father
Daniel MacLaghlin aged 56
Who departed in the year 1700
For his children Owen Felim Katherine Daniel
Of their Mother also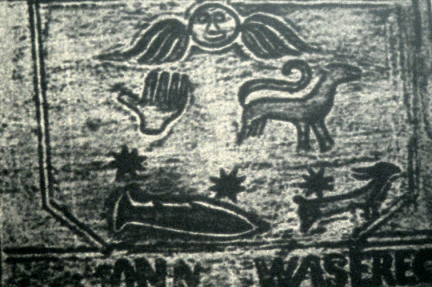 A large cross, with a richly-floriated base, and serpent's heads entwined at the head and arms of the cross,
runs down the centre of the stone, the left side of which is ornamented with a graceful floral design, while on the right ones sees the
curious combination of a large two-handed sword with a re-curved guard, and alongside, a golf club or hurley and a ball : -
On the left arm:
Magnus MacOrristin of the Isles lies under this mound
On the right arm:
Fergus MacAlain made this stone
Notes:
Dr Young hopes to have the stone raised and placed on brickwork, for its better preservation. It is within the walls of the old church, near the east end, and was discovered in 1890 by the late Mr Doherty
Rev EJ Hamilton, late Archdeacon of Derry, writes in "Ulster Journal of Archaeology" vol II, p 142 :
The curious appearance of this stone at Cloncha can be explained as follows:
This stone had long lain buried under the soil. I remember seeing it when quite a little boy, and I was at service in the now ruined church.
Some long years since, I went and had the stone stripped, and that same day went to the Youngs of Culdaff, as I knew it was over a grave of one of their family,
and asked them about it. They told me a fishing-boat from Culdaff was blown over to one of the Scotch isles in a gale,
and on its return the crew, in want of ballast, went into a churchyard in, I think, Iona, and took this stone away, which one of their relatives got possession of
and placed where it is. This would account for the golf-stick and ball, which were unknown in Ireland, and quite suit with the title upon the stone.



[Perpendicular tombstone in Churchyard]
Underneath are the remains of
Martha Miechan
Who departed this life Apr 28 1819 aged 25

IHS
[An Angel]
This Monument was erected by
Shan O'Burlaghan
For entering of his father
Owen O'Burlaghan
And alsoe his offspring linial ano do 1708

IHS
[An Angel]
This Monument was erected by
James O'Dogherty
For his father
James O'Dogherty
Who died 19 Jun 1716
And for his offspring linial 1717

Inside the walls of the church, and to the right-hand side of the eastern window, there is an old gravestone, bearing the following title :-
Erected by
Torlagh O'Doherty, Priest
To the Memory of his Brother
Hugh, 1707

© Donegal Genealogy Resources