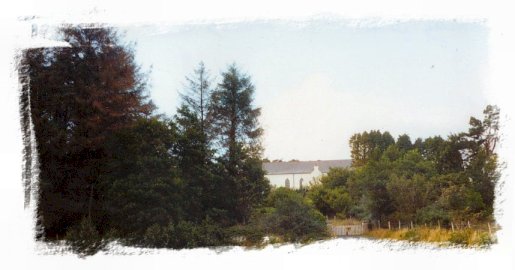 These inscriptions and photographs, compiled by Muriel Sherlock & Joe Doherty Jr, form part of the Donegal Genealogy Resources Website
You may link to this page but not copy it
If you have a connection to any of the families and would like to have your email address linked to them, please feel free to Contact Me

CLERGY Very Rev. Seamus Gallagher PP.
The Parochial House, Glenswilly, Newmills, Letterkenny, Co. Donegal.
Ph 074-37020
Catholic Population 1,100 - 280 families
Parish Records
Baptismal records 1874
Confirmation records 1907
Marriage records 1877
Death Register 1916

Glenswilly

Attention pay, my countrymen, and hear my native news
Although my song is sorrowful, I hope you¼ll me excuse
I left my peaceful residence a foreign land to see
And I bid farewell to Donegal, likewise to Glenswilly

Some stalwart men around me stood, each comrade loyal and true
And as I grasped each well-known hand to bid a last adieu
I said, My fellow countrymen, I hope you'll soon be free
To raise the flag more proudly oer the hills of Glenswilly

It is these cruel English laws, they curse our native isle
Must Irishmen always live like slaves or else die in exile?
There's not a man to strike a blow or to keep down tyranny
Since Lord Leitrim like a dog was shot not far from Glenswilly

No more beside the sycamore I'll hear the blackbird sing
No more to meet the blithe cuckoo to welcome back the spring
No more I'll plow your fertile fields, a chuisle geal mo chroÌdhe
On foreign soil I'm doomed to toil far, far from Glenswilly

God bless you, dark old Donegal, my own dear native land
In dreams I've often seen your hills and your towering mountains grand
But the last three thousand miles of life separates these hills from me
I'm a poor forlorn exile cast far, far from Glenswilly
I'm a poor forlorn exile cast far, far from Glenswilly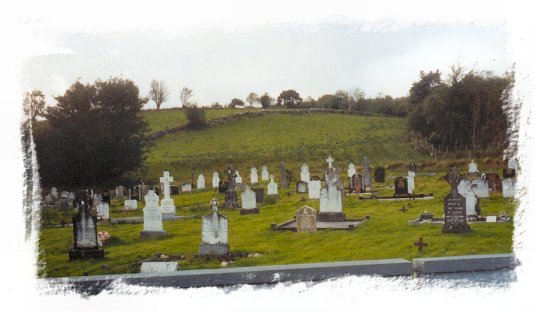 INSCRIPTIONS
DOHERTY
In Loving Memory of
Alice Doherty
Killymasney
Died 6 Jan 1946
Rest in Peace
Notes:
Alice was aged 69 years, death registered Letterkenny Jan-Mar 1946, vol 2 pg 57

In Loving Memory of
Hugh Doherty, Craghey
died 15. Sept 1938 aged 74 years
Andrew Patrick Doherty
died 8th May 1969 aged 35 years
Rose Doherty
died 23 March 1970 aged 76 years
John Doherty
died 28th Feb 1974 aged 85 years

In Loving Memory of
John Doherty
Treankeel
died 19th Oct 1990 aged 74 years

In Loving Memory of
Michael Doherty, Killymasney
died 20th April 1956 aged 85 years
His daughter - in - law
Molly Doherty
died 29th March 1945 aged 30 years
Richard Doherty
died 21 Jan 1985 aged 76 years
Erected by John Doherty of Philadelphia
Note:
Molly is the wife of Richard, who in turn is a brother of John Doherty, above
Researcher: Joe Dougherty Jr - Email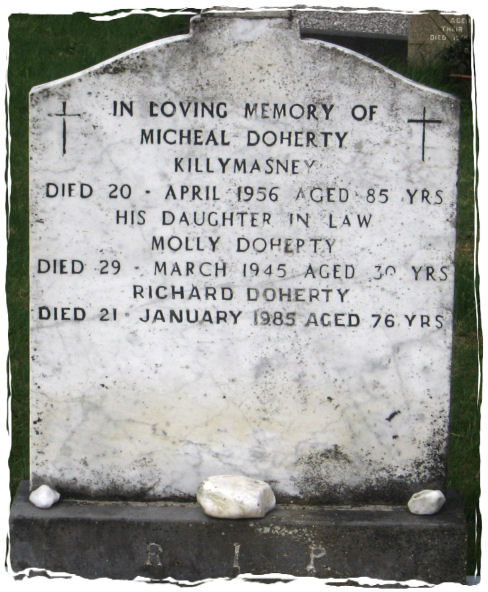 DOHERTY & GALLAGHER
In Loving Memory of
Sally Doherty, Breenagh
died 6th Sept 1941 aged 70 years
Eamon Gallagher
died 1st June 1945 aged 9 ½ years
Edward Doherty
died 25. 4. 1961 aged 92 years
Mary Alice Doherty died 8th May 1980 aged 80 years
Maire Gallagher
died 1st Dec 1964 aged 27 years
Annie Gallagher
died 5th August 1976 aged 74 years
Jim Ned Gallagher died 12th Feb 1987 aged 100 years

DOHERTY & KENNEDY
In Loving Memory of
James Doherty, Killymasney
died 7th Jan 1965
His wife Anne
Died 17th March 1956
John Kennedy (no date)
Note:
James is a brother to Michael, above
Researcher: Joe Dougherty Jr - Email

GALLAGHER
In Loving Memory of
Ann Gallagher, Altadush
died 21. July 1949 aged 80 years
Her husband James died 7th Jan 1952 aged 85 years
Charles Gallagher
died 10th Nov 1974 aged 71 years

In Loving memory of
Conal Gallagher, Meencarragh
died 8 March 1957 aged 74 years
His wife Bridget
died 10. 1. 1970 aged 60 years

*In Loving Memory of
Bridget Gallagher, Tullyhoner
who died 12 Dec 1947 aged 74 years

*In Loving Memory of
Rose A Gallagher
Tullyhoner
died 31st October 1957 aged 49 years
Her husband John
Died 5th March 1965 aged 58 years
Mary Doherty died 22nd Feb 1992
aged 84 years.
(these two graves in same plot)

In Loving Memory of
John Gallagher, Meencarragh
died 30th May 1970 aged 93 years
His wife Katie
died 18th November 1971 aged 83 years
Son William
died 5th May 1944 aged 9 years

In Loving Memory of
Michael Gallagher
died 1st Sept 1959 aged 77 years
Tullyhoner
And his wife Rose
died 22nd October 1992
aged 91 years
His Brother Peter
died 24 March 1960 aged 84 years

In Loving Memory of
Annie Gallagher
Breenagh
died 4th April 1965
Michael Gallagher
died 28th Dec 1972

In Loving Memory of
Cormack Gallagher
Killymasney
died 12th May 1957 aged 77 years
His wife Mary Ann
died 1st March 1977 aged 78 years
Their grandchild Susan Brigid ( no date)

O'Donnell
John O'Donnell
Killymasney
Died Feb 1945
Aged 80 Years
His Wife Rose
Died Feb 1954
Aged 85 Years
Their Son Anthony
Died 1? Feb 1993
Aged 82? Years
Note: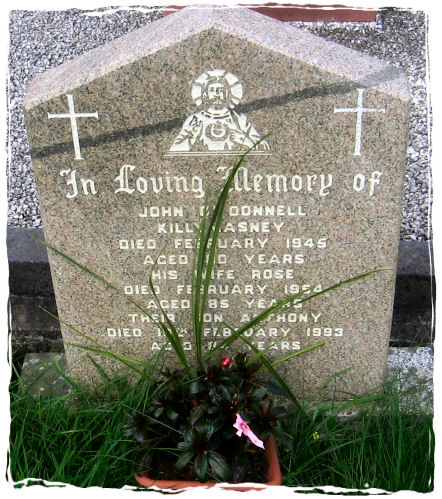 © 1998/2009 Donegal Genealogy Resources