If you have any connection to any of the families and would like to have your email address linked to them, please feel free to Contact Me
Behind Castlehill on the edge of Lough Swilly are the remains of an Abbey or Church at Grange
The churchyard at Grange contains some of the earliest grave stones in this area dating from 17th Century
(on outside wall of Church)
In Memory of
Paul Barry
Died July 1828 aged 63 years
and his beloved wife Elizabeth
died February 1835 aged 70 years
also their Daughters
Jane died August 1833 aged 23 years
Rebecca died April 1839 aged 29 years
Elizabeth died July 1869 aged 73 years
Margaret died Aug 1884 aged 78 years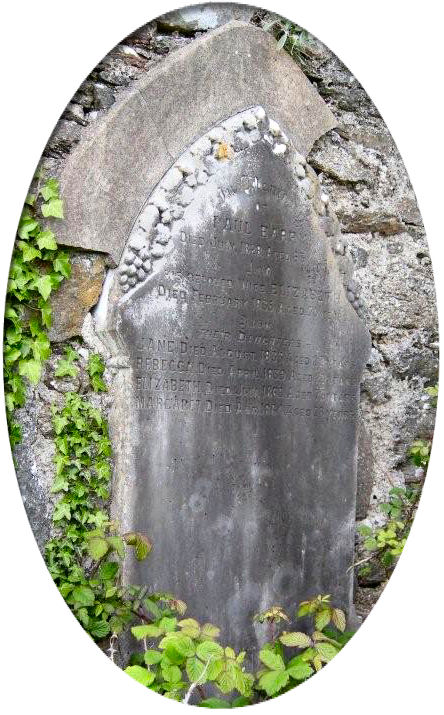 Erected by his wife
Sarah Ann Black
In loving memory of her husband
John Black
Died 27th June 1906 aged 63 years
Also his Father and Mother
Thomas and Mary Black
And his sister Jane
Also the above
Sarah Ann Black
Died 17th June 1908 aged 50 years
Also Hannah Black
Died 22nd May 1914 aged 24 years
And her her mother
Hannah Black
Died 25th Feby 1915 aged 60 years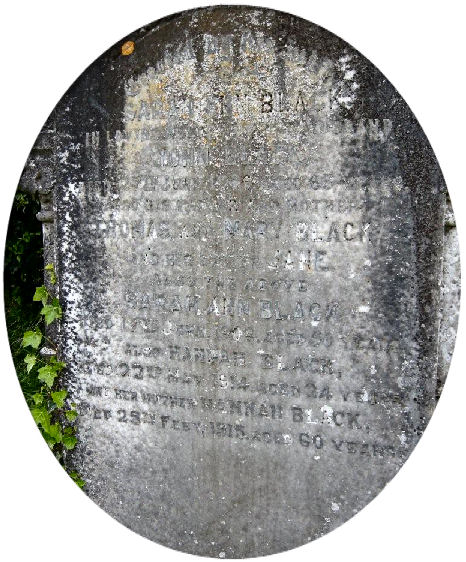 R.I.P
Burns
(no dates)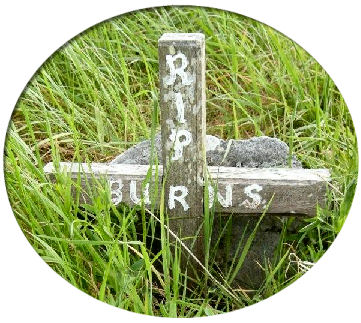 Erected by
Mary Ann Campbell
In loving Memory of her Husband
William Campbell
Died 18th May 1906 aged 39 years
Also his son
Joseph Campbell
Died 25th Feb 1915 aged 28 years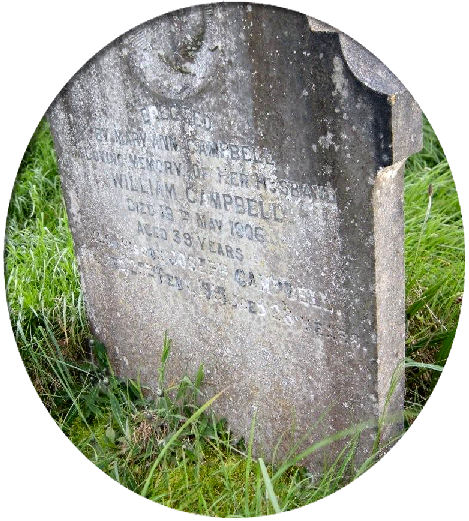 On the inside wall, over these two stones, of the old church ruins, is this tablet:-
Erected by Catherine G. Dysart in loving memory of her husband Joseph Dysart, of Carnumaddy who d. June 14, 1879, Thy will be done

In Loving Memory of
John Edwards, Grange Burt
Died 20th Dec 1912
Their son Robert, Mullaney, Burt
Died 3rd Sept 1950 aged 57 yrs
And his wife Alice
Died 9th Dec 1982 aged 79 yrs

In Loving Memory of
William Caldwell Edwards
Of Mullaney Burt
Who died 28th? November 1937

Erected by Rebecca Kerr
In Memory of
The Kerr Family, Tinnyhabuick
Rebecca Kerr
Died 2nd May 1905

In Loving Memory of
The Kerr Family, Castlehill

(four sides and a plinth)
John Stanley Leathem
Sch. T.C.D. son of
Rev Moses Leathem
Born 11th Sept 1835
Died 18th June 1863 aged 27 years
Here lie the remains of
Revd Moses Leathem
Late…the Parishes
….in the Diocese of Derry
Died… day of October 1866
Aged 57 years
Willie
Only child of
William Leathem (letters)
And grand son of
Rev. Moses Leathem
Born October 26th, 1868
died December 30, 1875 aged 7 years In Loving Memory of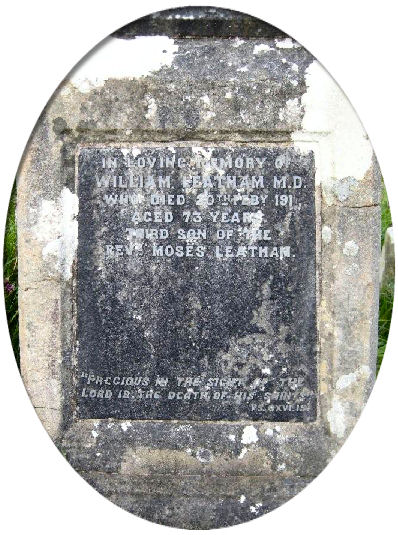 (plinth)
Lottie
The beloved wife of Chas Leatham
4th Jan 1892 aged 40
Blessed are the pure in heart
William Leatham, M.D.
Who died 20th Feby 1911 aged 73 years
Third son of the
Revd Moses Leatham

(inside Church)
Erected in Memory of
John Leslie of Grange, Burt
Who died 18th February 1890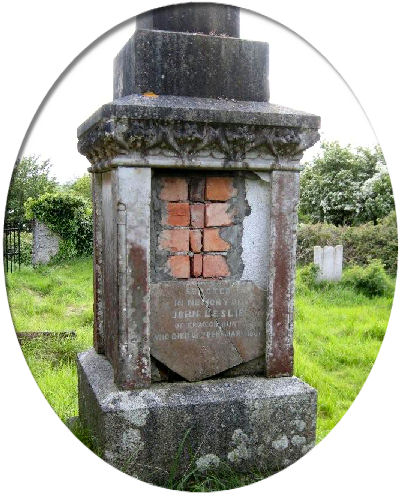 (inside Church)
Erected by William Leslie
In Loving Memory of
His wife Eleanor
Who died 6th January 1880 aged 56 years
Also his wife Matilda
Who died 4th May 1894 aged 72 years
(fallen headstone)

Erected by Margaret Marshall
In Memory of her husband
Andrew
Who died 10th January 189?
Also her daughter Catherine
Who died 2nd Nov 1903
Her sons Alexander
Died 5th April 1907 aged 26 years
David
Died 27th July 1907 aged 17 years
Her daughter Margaret Porter
Died 14th Dec 1908 aged 16 years
Also her son Robert
Died 4th March 1926 aged 42 years
Also the above Margaret Marshall
Died 11th Sept 1926 aged 73 years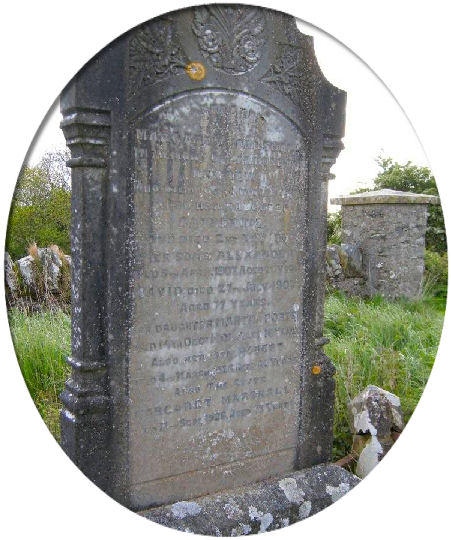 In Loving Memory of
Andrew Marshall
Died 14th Sept 1958
His beloved wife
Margaret L. Marshall
Died 14th Feb. 1976

In Loving Memory of
John Scott Marshall, Grange, Burt
Died 15th November 1999 aged 79 years

In Memory of
George Montgomery
Who was drowned in the 29th year
Of his age when boating on
The River Bann, 1st July 1834
And whose remains are interred in
Drumcree Churchyard, Co. Armagh.
And also of Mary Leathem
Widow of the above
Who departed this life on the
2nd June 1875 in the 71st year of her age
And whose remains lie underneath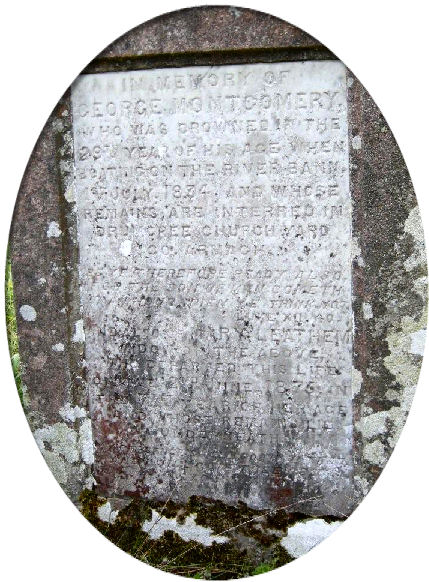 Here lieth the remains of
Jane Porter daughter of
William Porter of Greenforth
Who departed this life on the
13th day of December in the
Year of our Lord 1853 aged 39 years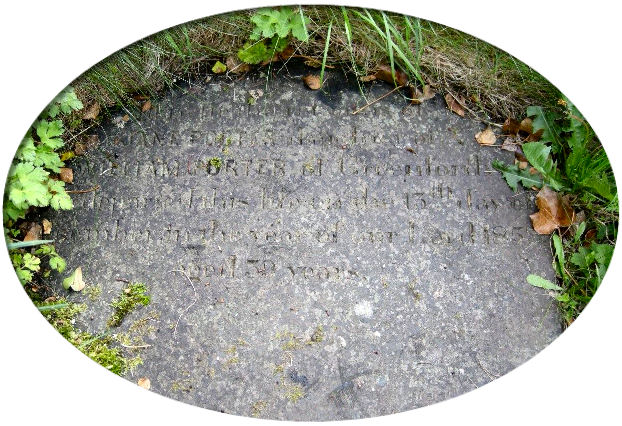 In Loving Memory of
Rose Ann Reilly
And her husband
James Reilly
(no dates)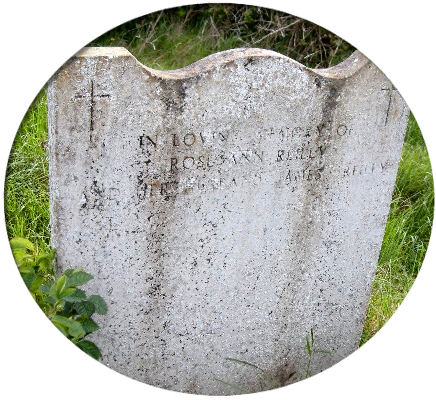 (on outside wall of Church)
Erected by
George Thompson of Bonemaine
In Memory of his Son
Samuel Blair Thompson
Died 4th Decr 1881 aged 19 years
Also of his beloved wife
Eliza Catherine
Who died 16th Novr 1894 aged 72 years
His son George
Died 3rd Decr 1900 aged 52 years
And the above named
George Thompson
Died 18th Augt 1910 aged 106 years
Also his son
James McClintock Thompson
Died 7th June 1920 aged 67 years
Also Agnes Thompson wife of
James McClintock Thompson
Died 14th Augt 1954 aged 89 years
Also their son George
Died 25th Jan 1963 aged 63 yrs
Their daughter Jennie
Died 22nd Jan 1976 aged 76 yrs
William Hamilton Donaghy Thompson
Died 3rd Feb 1980 aged 73 yrs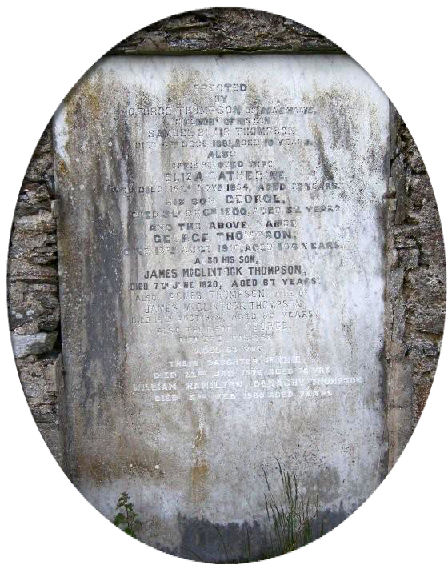 More to Come.............