Inscriptions - Straid Church and Graveyard, Clonmany, Co Donegal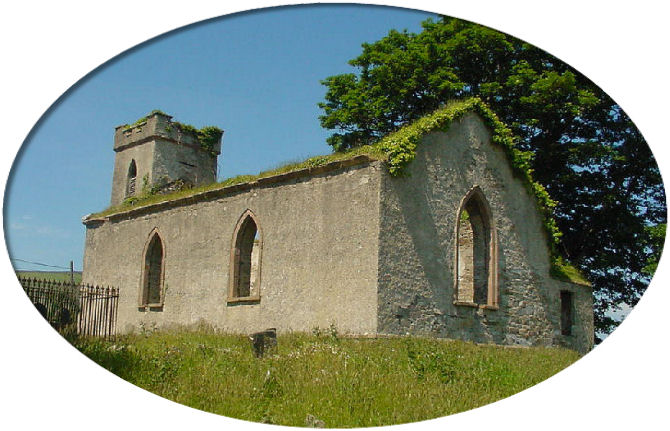 (Photograph by Faye)
This information was compiled by Lindel and forms part of the Donegal Genealogy Resources Website

You may link to this page but not copy it
Notes:

From The Journal of Irish Memorials Association Vol 12 1927

&

Inishowen, Its History, Traditions & Antiquities, 1867
While the old church has very few marked graves, 'the graveyard is literally piled with heaps of the dead;

it is raised many feet in height, and seems to be wholly vaulted underneath'. (Memorials to the Dead Vol. 5, 1901).

Since the Established Church had so few parishioners, these graves are mainly the graves of the Catholic community, priests and laiety,

who continued to use the graveyard even after the opening of the Catholic Chapel in Clonmany.(Straid Church and Associated Material)
Inscriptions
Underneath This Stone Are The Remains Of
Catherine Ball
Relict Of Samuel Ball Esq Of Grousehall
And Daughter Of The Rev Arthur Chichester
Who Departed This Life On The 11th Day Of April 1799
In The 49th Year Of Her Age
Underneath This Stone Lieth The Remains Of
Mrs Mary Chichester
The only Duaghter to Henry O'Neill of Shane's Castle
Who Died On The 12th Day Of May 1786
Also Those Of Her Son
Rev Dr Chichester
Who Was For Many Years Rector Of The Parish Of Clonmany
And Who, To The Great Grief Of His Relations
His Friends And His Parishoners,
Departed This Life On The 31st Of August 1815
Aged 72 Years
(Both of the above headstones are on the north side of the church
surrounded by a wall)

The Burying Ground
of
Edward Doherty Esqr
of Glen House Co Donegal
Herein Buried
Michael Doherty
Died 1855
His Wife Rebecca
Died 1867
Their Son James Walker
Died 1860
Their Son Michael
Died 1893
Their Daughter
Ellen Irvine Died 1888
Her Son
John J Irvine M.D.
Died 1897
And Edward Doherty
Who Died 6th March 1918
Also His Son
James Walker Doherty
Who Died 1st February 1925
Aged 51 Years
(upright marble slab)

IHS
Sacred to the Memory of
Neal O'Doherty Esq
Late of Keeloges
Who Departed This Life
On the 14th of December 1823
Aged 78 Years
And Catharine His Wife
Who Died on the 6th December 1829
In Her 80th Year
This Monument To Their Virtues and Piety
Is also Erected That So Long As Its Perishable
Materials Shall Endure
It May Protect The Remains
And Perpetuate The Remembrance of
Their Children
Margery, Wife of Denis O'Doherty
of
Londonderry
Who Died on the 1st August 1820
In Her 28th Year
Dominick O'Doherty
Who Died on the 25th June 1824
Aged 36 Years
And Mary, Wife of Bernard Farren
Late of Straid
Who Died on the 19th Day of April 1828
In Her 53rd Year
Fraternal Affection Inscribes It Also As
The Cenotaph
of
Frances, wife of Thomas O'Doherty
Of Muff
Who Died on the 26th January 1824
Aged 43 Years
And of Surgeon William O'Doherty
Who Died at Honduras in the West Indies
On the 23rd of December 1824
In His 34th Year
(table stone)

81229 PTE S Humphries
4th Res Devon Regt
Died 3rd November 1918
(wooden cross)

IHS
This Stone Was Erected By
Eneas McFaul
In Remembrance Of His Father and Brother
Here Lies The Body of William McFaul
Who Departed This Life The 15th July 1803
Aged 56 Years
Also His Son Revd Patrick McFaul
Who Departed This Life The 14th of March 1805
Aged 32 Years
(horizontal slab, engraved with a hand, chalice and book)

Erected To The Memory Of
Archibald McMurray
Who Departed This Life Spetember The 18th 1828
Aged 77 Years
'Letrd. By James McMurray'

Here Lyeth The Body Of
Martha
Wife Of Mr Henry McNeill
Daughter Of Col Edward Carey
Who Died The 29th Year Of Her Age
And On The 17th Day Of July 1725
Also
Here Lyeth The Body Of
Col Daniel McNeill
Who Departed This Life On The 11th Day Of Spetember 1709
Aged 59 Years
(The stone, of best Italian marble, which is in the southern half of the yard,
is engraved with the figure of a stag)
Note
Colonel McNeill loved at Binion, and owned some property in the neighbourhood;
but his memory is held in the utmost detestation by the inhabitants of the parish.
He led a wild and irregular life, and kept a number of low retainer about him
who aided in procuring him the means of gratifying his odious and immoral propensities
(Maghtochair, 1867)

To The Memory Of
Denis O'Donnell, Gentleman
Who Departed This Life On The 9th April 1778 Aged 78 Years
Also Annie, His Wife
Who Departed This Life On The 13th May 1769
Aged 45 Years
Their Issue 5 Sons And One Daughter
Note
O'Donnell was a poet, and the author of a celebrated son,
entitled 'Playraka-na-bhollon'

© Donegal Genealogy Resources