Mary from Dungloe
Under construction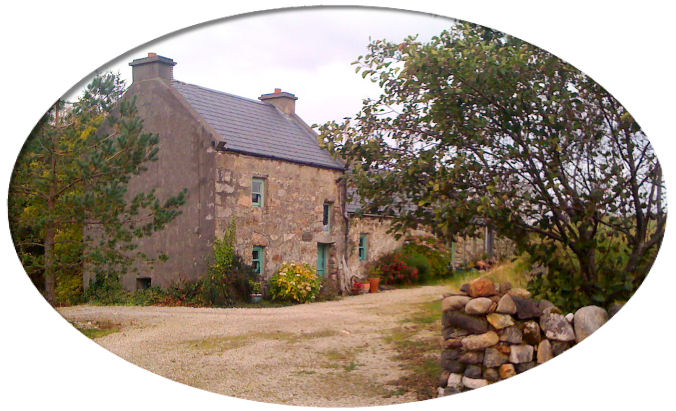 (The house in Lettercaugh where Mary was born. Photograph by Mary Mulcahy)

This page was compiled by Lindel and forms part of the Donegal Genealogy Resources Website
You may link to this page but not copy it
If you have anything you would like to contribute to this page or, if you would like your email address linked to any of the family, please Contact Me

My Mary Near Dungloe
Oh, then fare ye well, sweet Donegal, the Rosses and Gweedore. I'm crossing the main ocean, where the foaming billows roar,
it breaks my heart from you to part, where I spent many happy days. Farewell to kind relations for I'm bound for Amerikay.

Oh my love is tall and handsome and her age is scarce eighteen, she far exceeds all other fair maids when she trips o'er the green,
her lovely neck and shoulders are fairer than the snow, till the day I die I'll ne'er deny my Mary from Dungloe.

If I was at home in sweet Dungloe a letter I would write, kind thoughts would fill my bosom for Mary, my delight.
'Tis in her father's garden the fairest violets grow, and 'twas there I came to court the maid, my Mary from Dungloe

Ah, then Mary, you're my hearts delight, my pride and only care, it was your cruel father would not let me stay there.
But absence makes the heart grow fond and when I'm o'er the main, may the Lord protect my darling girl till I return again.

And I wished I was in sweet Dungloe and seated on the grass. And by my side a bottle of wine and on my knee a lass.
I'd call for liquor of the best and I'd pay before I go and I'd roll my Mary in my arms in the town of sweet Dungloe.
Original Pádraig MacCumhaill Lyrics
Mozilla Firefox users - Click here to listen to Donna Taggart singing Mary from Dungloe

Note:
There are enlargements of many of the images below - selected the image to view the enlargement
Within this page, I will try to present some history and facts in relation to this Mary Gallagher, whose story has lived on much longer than the years she got to enjoy. I am no expert on Mary, but I have an interest in her, especially as she came from a townland very near my ancestral home in Augullies, near Dungloe.

The story of Mary from Dungloe has been told and retold many times over the last 100 years, finding its way into song & verse. It was a stonemason named Pádraig MacCumhaill who wrote and first set the story of Mary to an old air in the late 1870s. The most widely known form of this story is the ballad of Mary from Dungloe, performed by the Emmet Spiceland Ballad Group in 1968 and Daniel O'Donnell, to name just two.

There are a number of theories as to the identity of the original Mary, who inspired the song. It has been suggested that it was a Mary Browne from Loughsalt, Dungloe. Other suggestions have been a Mary from Meenmore and a Mary O'Donnell of Loughtunney. However, I will be presenting the story of Mary Gallagher from Lettercau, and what I know of her parents and siblings.

That Mary was a daughter of Patrick Gallagher and Anne is accepted. I have read a few versions about their origins and Anne's maiden name, so I will start with Mary's father, Patrick.

Patrick Gallagher

Patrick was born in the early 1800s in either Meenmore or Cruickaghmore...............I have references to Mary being known as Mary Phaid' Bhrianigh Rua - Mary daughter of Patrick, son of Bryan (Red). In the 1857 Griffith's Land Valuation, in the townland of Cruickaghmore, there was a household headed by a Bryan Gallagher (Red), who rented a house and a share of 220 acres of land from the landlord, the Marquis of Conyngham. There was however, a Bryan Gallagher household in Meenmore, the same year. This Bryan rented a house and 1 acre of land from the same landlord. What is not in dispute is that he married Anne.

Anne Doran / McColl

The first reference I saw to Mary's mother's maiden name was as McColl, on the Mary from Dungloe website history page. What I believe is that her name was Anne Doran and that she was from Lettercau.

Patrick & Anne Gallagher's family

After their marriage, probably in the mid to late 1840s, the couple lived in Lettercau, where they had a farm and a small shop. Anne died 23 Feb 1862 at the age of 40, but not before giving birth to two sons and three daughters. These children were Manus, Owen, Bridget, Annie and Mary, who was the youngest. Margaret, a sister of Patrick, moved in with the family, helping to run the household and shop. As Mary grew older, it became apparent that she was fast becoming a beauty - she was almost six foot tall, slender, with a slightly tanned complexion, bright blue eyes and long blonde hair. Together with her beauty, she was said to have had a fast intellect.

While still young, she was sent to work as a servant to an O'Donnell family in Dungloe. This is where she met a man who, from all accounts, loved her as much as she did him. However, he was a member of the RIC stationed in Burtonport and it was because of this that he was rejected by Mary's father, when he requested permission to marry Mary.

Mary did not rebel against her father's wishes. Now, being unable to marry the man she wanted to, and with her mother dead, what was she to do? Her older brother Manus had emigrated to New Zealand and shortly thereafter, Mary, Owen and Annie, made their way to London, where they also boarded a ship bound for New Zealand.

Now I will deal with each of the five siblings :

Manus Gallagher

The first to emigrate to New Zealand. He embarked on the Waimea 2 July 1876 in Plymouth and arrived at the Port of Wellington on 4 Oct 1876.

Manus died 27 Dec 1886 and was buried in the Makaraka graveyard on 28 Dec 1886. He was 32 years old. Buried in the same grave with him are two Gallagher infants - Maggie buried 6 Sep 1893 & an unnamed infant buried 17 Nov 1888.

Mary Gallagher

Mary, together with her sister Annie and brother Owen, were the next to emigrate to New Zealand. They embarked on the Orari 13 July 1876 in Plymouth and arrived at the Port of Auckland on 2 Nov 1876.

Annie Gallagher

Emigrated with sister Mary and brother Owen on the Orari, arriving the Port of Auckland 2 Nov 1876.

Owen Gallagher

Emigrated with sisters Mary and Annie on the Orari, arriving the Port of Auckland 2 Nov 1876.

Bridget Gallagher

Bridget was the last of the siblings to emigrate to New Zealand. She had married Patrick Rogers in 1880 -

18 Sep 1880 Dungloe

Patrick Rogers, Island Treore (Bunawack), 17 yrs, son of Manus, married Bridget Gallagher, Lettercaugh, full age (over 21 yrs), dau of Patrick.

Witnesses Bridget Gallagher and Mary Harley

I do not know when Patrick emigrated however, Bridget embarked on the Doric 30 Aug 1884 in Plymouth with their two children (Mary & Patrick) and 20 yr old Mary Rogers (sister to Patrick?). The Doric arrived Port of Wellington 17 Oct 1884. It had sailed under Capt Jennings from London via Plymouth, Teneriffe, Cape of Good Hope and Hobart.
The song you are listening to, 'Mary From Dungloe' is being sung by Donna Taggart,
who very kindly allowed me to use the song on this page.
Donna has a new album out - please visit her website and support her!
Thankyou!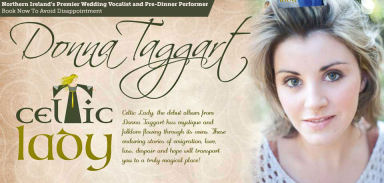 © Donegal Genealogy Resources