Nothing is known of John's life, until his marriage to Fanny Gallagher, on the 17 May 1866. She was the daughter of Hugh Gallagher and his wife Ann Doherty. John and Fanny were married in the Roman Catholic Chapel of Letterkenny, Co Donegal, by Charles O'Donnell. The witnesses on the Marriage Certificate were Charles Duddy and Anna Ward. The Certificate notes that John was a 27 years old farmer residing in Augullies, Templecrone Parish, and Fanny, an 18 year old spinster residing in Stramore Upper, Gartan Parish. The fathers of John and Fanny were noted to be farmers.
<![if !supportEmptyParas]> <![endif]>
John and Fanny settled in Augullies where, on 1 Jun 1867, Fanny gave birth to their first child – a son named John Francis O'Donnell. Another son followed in 1868, James Arthur, and about that time, they also fostered John's sister's daughter, Mary Sweeney. This was a fairly common practice, especially in those days when it was very difficult to support large families. It was also the year that John took over the tenant right for their portion of Augullies (about 44 acres) from his mother Ann.
<![if !supportEmptyParas]> <![endif]>
Word must have been sent to John from his brother James, for in 1869, preparations were made for John and his little family to immigrate to New Zealand as assisted passengers………their final destination would be Kaikoura, where James and his wife had already settled. An indication of these preparations is in the 1869 Griffith's Valuation, when the Valuation entry for John changed to 'the representatives of John O'Donnell.'
<![if !supportEmptyParas]> <![endif]>
In the June 1869, John, Fanny, their two sons, and 6 year old Mary Sweeney travelled to Gravesend in England.  There, they boarded the Hydaspes, which departed Gravesend for Lyttleton, New Zealand on 3 Jul 1869. They arrived in Lyttleton 30 Sep 1869, and an account of the voyage appeared in the Star newspaper - see the newspaper, as well as a transcript of a dairy written by another passenger. On the same voyage were James and Patrick Gallagher (Fanny's brothers), Mary McSwiggan (who James would marry in 1873), and Thomas Boyd (Ploughmen from Donegal who would also settle in Kaikoura) and Catherine Gallagher. 
<![if !supportEmptyParas]> <![endif]>
I do not know where John and his family initially lived in Kaikoura, but there are records that show they were settled at Suburban:
<![if !supportEmptyParas]> <![endif]>
Suburban 1871 Drainage Contracts:
17 chains Swamp Road - J. O'Donnell and J. Gallagher - £119
Part of Sect 73, bridge, 3 chains Swamp Road and outlet – John O'Donnell, £49
<![if !supportEmptyParas]> <![endif]>
Kaikoura Herald, May 18 1872, Road and Education Rates:
John O'Donnell – 3shillings 10pence Education rates and 7shillings 8pence Road rates.
<![if !supportEmptyParas]> <![endif]>
The first official record I found on land ownership for John was a document at the Land Information Office in Blenheim - on 14 Jun 1873, there was a grant of lands to John under the Marlborough Waste Lands Act 1867. It gave him 24 acres and three roods in Kaikoura Suburban, being part 1 of Section 73.
<![if !supportEmptyParas]> <![endif]>
On a corner section bounded by Schoolhouse Road and Mt Fyffe Road, stood John and Fanny's house. It was a two story cottage which housed John, Fanny, their four children and Mary Sweeney. There is nothing left of it now, but this photo below, was taken of it in the 1960s.
<![if !supportEmptyParas]> <![endif]>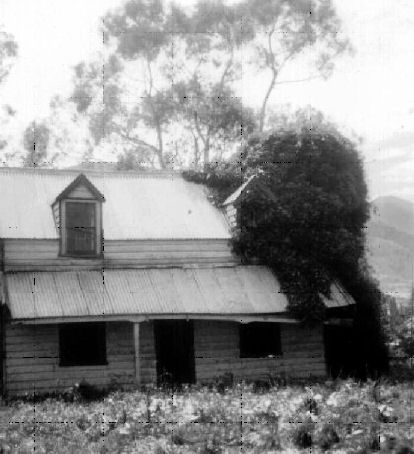 Fanny was very busy during this period – she had her five children to care for and there are records that show between 1873/74 she was a school teacher, living off Mt Fyffe Road above Schoolhouse Road corner, on the west side. For 18 months the children of Suburban attended school in Fanny's home, the Kaikoura Education Board granting her £40 a year, in addition to school fees. She taught at a very elementary level in extremely cramped conditions, without a blackboard and with only three small desks for 30 children. She also appears to have taught catechism to the Catholic children as well.
John and Fanny were now doing very well for themselves – in 1874 they had another child and it was also in that year that John and his brother James sponsored their recently widowed sister Bridget, and her five children, out to New Zealand, to also settle in Kaikoura. By 1878, they had 7 children, their own house on 24 acres and, according to the Sheepholders Return as at 31 May 1879, they ran 155 sheep.
Unfortunately, good things must eventually come to an end - disaster struck John and Fanny late in 1879………John was dying of heart disease. On 4 Aug 1879, he sat down with William (Ludstone) Smith, JP, and two witnesses, Jeremiah Curtain and Patrick Peoples, and dictated his Will. He signed the Will with his mark, so he had never learnt to write his name. A copy of the will can be found here. John died at home on 8 Sep 1879, a few days after the second birthday of his youngest child, my great grandfather, Sylvester. John was 40 years old and had spent only 10 years in New Zealand.
Fanny, now a widow at 29 years old, continued raising their children on their land. There had been some changes both since the first grant of land and since John's death - by 1881, Fanny was only running 60 sheep however, the amount of land she owned, according to the Oct 1882 Return of the Freeholders of New Zealand, was 77 acres, valued at £924.
The following year, Fanny met and became involved with Henry Stephen Sharp, the 25 years old son of Robert Sharp and his wife Sarah Sellars of Nelson. Plans were made for them to marry however, Stephen's religion was Church of England so, on 2 May 1883, he was baptised into the Catholic faith. His sponsor for the baptism was Patrick Peoples. Then, on the 17th May 1883, Rev Lampila married Fanny and Henry Stephen Sharp at the Kaikoura Roman Catholic Church, with James Kerr (who had married Fanny's foster daughter Mary Sweeney) and Mary Ann O'Donnell (her niece) as witnesses.
One year and 13 days later, on the 30 May 1884, Fanny died. Her death was the result of childbirth – postpartum debility and heart failure………..the child did not survive either. Fanny was buried on 1 Jun 1884, at the Roman Catholic burial ground at Kowhai, with John. She was 33 years old. Her eldest child was 16 years old John Francis and her youngest was 6 year old Sylvester. The children were cared for by Fanny's brother James and their good neighbours, Michael Dee and his wife. There is a document in the Land Information Office, written by William Smith, JP, in relation to Fanny's death.
Henry Stephen had 2 roods of Section 51 of Kaikoura Suburban after a transfer (no 691) from Joseph Hayes Marton, at 10 am on the 15 Apr 1882. He lived on that land, marrying again on the 6 Feb 1889, to Anne McSwiggan, the sister of James Gallagher's wife, Mary. Henry Stephen died on the 8 Jun 1893, the day that his third child was born – he was 34 years old.
John's land remained in his name until a transmission (number 240) was made of his estate and interests to James Gallagher, which was produced at 1 pm on the 12 Feb 1900. The land was then transferred (number 2248) from James to Mary Ann Curtain, widow of Jeremiah, and John Michael Curtain, Farmer, both of Kaikoura.
So here ends their stories – their lives were very short, but full of rich experiences - the hardships of life in Donegal; the adventure of voyaging out to New Zealand to settle new lands; and the joy they must have shared in the birth of their seven children, all of whom survived to become adults.
Their lives may have ended, but those of their children were just beginning. The following are the links to the stories of those children of John and Fanny O'Donnell:
John Francis, born Augullies, 1st June 1867
James Arthur, born Augullies, 1868
Hugh, born Kaikoura, 12th December 1870
Anne, born Kaikoura, 21st July 1872
Mary Jane, born Kaikoura, 11th September 1874
Joseph, born Kaikoura, 17th December 1876
Sylvester, born Kaikoura, 4th September 1877 
Back to O'Donnells of Augullies
© 1998/2009 Donegal Genealogy Resources