Maps and Parish & Townlands Lists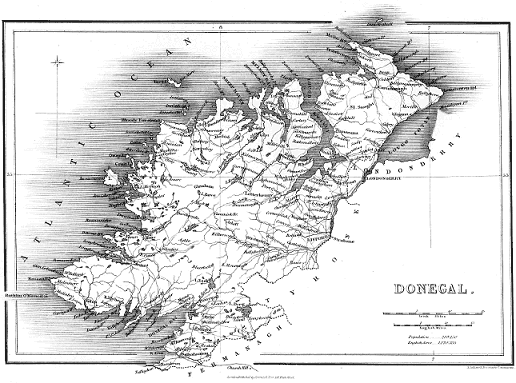 This page was compiled by Lindel and forms part of the Donegal Genealogy Resources Website
You may link to this page but not copy it

Maps

Parish, Townland & Electoral District Lists
Donegal Parishes
| | |
| --- | --- |
| English Form | Irish Form |
| | |
| Aghanunshin | Achadh nUinseann |
| Allsaints | |
| Burt | An Bheart |
| Killybegs Lower | Na Cealla Beaga Íochtaracha |
| Killybegs Upper | Na Cealla Beaga Uachtaracha |
| Kilbarron | Cill Bharrainn |
| Kilcar | Cill Charthaigh |
| Killea | Cill Fhéich |
| Killygarvan | Cill Gharbháin |
| Killaghtee | Cill Leacht Aodha |
| Kilmacrenan | Cill Mhic Réanáin |
| Killymard | Cill Ó mBaird |
| Kilteevoge | Cill Taobhóg |
| Clonca | Cluain Catha |
| Clondahorky | Cluain Dá Chorcach |
| Clondavaddog | Cluain Dabhaodóg |
| Clonleigh | Cluain Lao |
| Clonmany | Cluain Maine |
| Conwal | Conbháil |
| Convoy | Conmhaigh |
| Culdaff | Cúil Dabhcha |
| Desertegny | Díseart Eignigh |
| Donaghmore | Domhnach Mór |
| Donagh | Domhnach |
| Drumhome | Droim Thuama |
| Donegal | Dún na nGall |
| Aughnish | Eachinis |
| Fahan Lower | Fathain Íochtarach |
| Fahan Upper | Fathain Uachtarach |
| Gartan | Gartán |
| Glencolumbkille | Gleann Cholm Cille |
| Inver | Inbhear |
| Inishkeel | Inis Caoil |
| Inishmacsaint | Inis Maí Samh |
| Inch | Inis |
| Leck | An Leac |
| Lettermacaward | Leitir Mhic an Bhaird |
| Muff | Magh |
| Moville Lower | Maigh Bhile Íochtarach |
| Moville Upper | Maigh Bhile Uachtarach |
| Mintiaghs or Barr of Inch | Na Mínte |
| Mevagh | Míobhaigh |
| Raymunterdoney | Ráith |
| Raphoe | Ráth Bhoth |
| Raymoghy | |
| Stranorlar | Srath an Urláir |
| Taughboyne | Teach Baoithín |
| Templecarn | Teampall Carna |
| Templecrone | Teampall Cróine |
| Tullaghobegly | Tulacha Beigile |
| Tullyfern | Tulaigh Fhearna |
| Urney | An Urnaí |
| | |
Donegal Townlands
The official list of Townlands contains approximately 2,836 Townland names, and these were used as a basis for the 1857 Griffith's Valuation and the Census.
However, in old church records, letters and on maps compiled by the Ordnance Survey Office in the 1830s, there are at least another 1,500 placenames or 'unofficial townlands.'
So far I have compiled a list of 4,500 townlands/placenames and there are more which I will add, when time allows for pouring over the old maps.
The sources I have used are the Ordnance Survey Maps 1835, Placenames Database of Ireland, and local knowledge.
All three sources need to be checked as to date, there is no one place to find ALL the Donegal Placenames
Also see Townlands.ie Donegal Townlands database
Donegal Electoral Districts (DEDs)
Donegal Electoral Districts - Townlands A to G, Townlands H to End